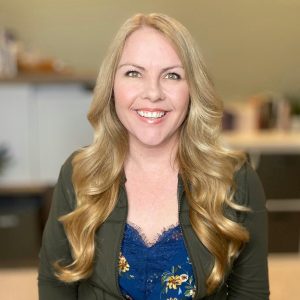 Jen O'Sullivan believes that getting to the root of the problem is vital to full health and restoration and utilizes a whole-body system approach of care with her students and customers. She has been a Young Living member since 2007, and is one of the most followed educators because she is known for her up-front and to the point education style. She gives more free educational content on a regular basis than anyone in the industry and is the author of 7 Amazon best-sellers through 31oils.com. She, along with over 100 Young Living distributors, have developed the largest most comprehensive essential oil education and recipe usage app on the market today called "The EO Bar" along with an easy to use PSK explainer app called "Live Well with Young Living". She is certified in French Medicinal Aromatherapy through the New York School for Aromatic Studies and has been a professional educator since 1999, at both the collegiate and high school levels. She is lovingly known as "The oil lady to the oil ladies" and has a desire to help educate anyone interested in essential oils. Her online education group of over 236,000 oil enthusiasts called The Human Body and Essential Oils is her main group where she teaches proper usage and safety with essential oils. She has studied health and nutrition since 2007 and has the ability to take complicated information and share it in a way that makes it easy to understand. Jen lives in Southern California with her husband who was also her High School sweetheart Tim and their son Jacob. She desires for everyone to use essential oils and learn how they can easily incorporate them into a more healthful lifestyle.
Below are a list of resources for you to check out if you would like to work with Jen.
Get started with Essential Oils!
Sign up here: www.SparkDroppers.com/Jen
Training Videos for New Oil Users
---
JOIN THE VLC (Vitality Lifestyle Coaching)
Join here: https://tinyurl.com/JuneVLC
I'd love to help you get a deeper understanding of the Young Living Lifestyle. What if I told you there is a course offered that covers all 600+ products that YL carries and will arm you with the confidence you need to live a healthier life AND help others along the way? Here's your chance! I'll be teaching you for an entire year along with some extraordinary guests teachers!
Dr. Oli Wenker, Dr. Lindsey Elmore, Dr. Jim Bob Haggerton, Dr. Doug Corrigan, Dr. Ben Perkus, Dr. Lisa Wilkerson, Dr. Peter Minke, Sarah Harnisch, Lucy Libido, Chris Opfer (RCD), Jessica Laney Petty (RCD), Wendy Mercure (RCD), Jordan Schrandt (RCD), Shannon Hudson (Diamond), Jason Sapp, Emily Podleski Morrow, Ellen Whealton, and Jade Shutes (past NAHA president and owner of the New York Institute of Aromatic Studies). Plus more to come!
Join here: https://tinyurl.com/JuneVLC
For More Info Click HERE
---
TEAM VITALITY
GET INTO THE INNER CIRCLE WITH TEAM VITALITY!
Team Vitality is a family of Young Living users and distributors. There are three main components to the community. It is $449 per year and gets you the best of the best! Join Here: https://tinyurl.com/TV449
#1 Vitality Lifestyle Coaching Program (check out the syllabus HERE)
Get a certificate in Vitality Lifestyle Coaching through Team Vitality. This is a course that brings you through all the basics of each Young Living Premium Starter Kits along with everything you need to know from compliance, to sharing, to understanding the product line with Young Living. It is a go at your own pace program that you will complete during the year.
#2 Resources
Hundreds of resources such as printable graphics, photos, social media posts, team business posts, and online scripts. Every so often a very difficult subject comes up that Jen does a video just for this group on such as on specific companies or drama in the industry.
#3 Weekly Chats
Weekly open Q&A on Monday's at 5:30pm PST. These are recorded so if you cannot make it, you can simply binge watch. There is a massive amount of education in each call.
See what others are saying about it HERE.
Join Team Vitality Here: https://tinyurl.com/TV449
---
BOOKS BY JEN
JEN'S ADDITIONAL EDUCATIONAL RESOURCES
Main Author Page:
Shareable Content on Facebook
www.Facebook.com/JenOSullivanAuthor
Main Education Group: THE HUMAN BODY
www.Facebook.com/groups/TheHumanBody
VITALITY Book Club
www.Facebook.com/groups/VitalityBook
SAVVY FACE for Savvy Minerals by Young Living Tutorials
www.Facebook.com/groups/SavvyFace
Main Mailing List and 15 day Essential oil eCourse
www.31oils.com/oils101
Mobile Apps for Apple and Android:
"The EO Bar" and "Live Well with Young Living"
Instagram: @JenAuthor
YouTube: www.JensTips.com
Printed Resources: www.31oils.com
~~~~~~~~~~~~~~~~~
Essential Oil Training Videos
Lesson 1: The Basics of Essential Oils Usage and Safety with Jen O'Sullivan
https://youtu.be/Is9Ou9YxxcU
Lesson 2: Essential Oil Quality with Jen O'Sullivan
https://youtu.be/PhijJUAeKnM
Lesson 3: Benefits of the Top 15 Essential Oils with Jen O'Sullivan
https://youtu.be/xGdCSO8hvwE
Lesson 4: How to Make Your Own Essential Oil Recipes with Jen O'Sullivan
https://youtu.be/oJmhJ65801k
Lesson 5: Diffuser Basics with Jen O'Sullivan
https://youtu.be/BTpR_0eV-OI
Lesson 6: Ningxia Red Basics with Jen O'Sullivan
https://youtu.be/F-AbOPGqv9Q
Lesson 7: Thieves Cleaner Basics with Jen O'Sullivan
https://youtu.be/1dcXzeCTVck
Lesson 8: How to Become a Young Living Member with Jen O'Sullivan
https://youtu.be/q3xwhU3LikM
Lesson 9: Navigating the Young Living Website and How to Reorder with Jen O'Sullivan
https://youtu.be/EMa3tj936a8
Lesson 10: What is an Upline, Downline, VO, ER, PV, OGV etc with Jen O'Sullivan
https://youtu.be/fiWbqpVTDgE
Lesson 11: How to Sign up a Friend and Make Extra Cash with Jen O'Sullivan
https://youtu.be/uefOaRNky1o
Lesson 12: Ditch & Switch – the Key to a Healthier You with Jen O'Sullivan
https://youtu.be/gY0unNADLNM
Business Basic Training Videos
Intro: Why Start a Business with Young Living? 3 Ways to Know You are a Business Builder
https://youtu.be/HvV_DzGREo8
Business Basics Lesson 1: Top 10 Things to Do as a Business Builder
https://youtu.be/O_K_woyGW1w
Business Basics Lesson 2: Your Driving Purpose & Setting Your Beliefs
https://youtu.be/hlXgY4NgI9Y
Business Basics Lesson 3: Setting Goals and Choosing Your Sales Strategy 
https://youtu.be/vb_HBrEEDys
Business Basics Lesson 4: How to Find Leads
https://youtu.be/LeT2SSZVIew
Business Basics Lesson 5: How to Structure Your Organization
https://youtu.be/RDAiR_xgzwg
Business Basics Lesson 6: How to Build a Winning Team
https://youtu.be/NdcSqKQYW_E
Business Basics Lesson 7: How to Duplicate
https://youtu.be/Ulw3tY5gXYc
Business Basics Lesson 8: How to Share Compliantly
https://youtu.be/gdz9bXC1v0U
Business Basics Lesson 9: How to Share Essential Rewards
https://youtu.be/g95rFo0M3OU
Business Basics Lesson 10: How to Share the Business Opportunity
https://youtu.be/QAOAIweorN8
Business Basics Lesson 11: Surprise Top 10
https://youtu.be/omz-zSdv5KQ
Business Basics Lesson 12: Three Keys to Success
https://youtu.be/Nbh52jH2cpQ